When it comes to travel, seniors have a wide range of needs and requirements to ensure safety and ease their trip. Airlines and airports provide special help and services that seniors may require – during their air travel. Here are a few travel safety tips that seniors as well as their caregivers and family members can follow for everyone to experience a hassle-free journey. Let's take a look at the safety tips for travelling!
Hacks for Safe Air Travel
Pack essentials in carry-on baggage
Always pack essentials in seniors' carry-on luggage when traveling by air. Pack medications in clear zip-lock bags so they are easy to find while traveling. Also, carry a water bottle, wet wipes, and hand sanitizer. Airlines allow a few specific foods to be carried as well. Be sure to check their guidelines and carry packed meals and snacks accordingly. It is especially crucial for seniors who are under medication or suffering from some chronic illnesses like diabetes.
Get vaccinated
In addition to the Covid vaccine, seniors should receive the pneumococcal vaccine, the TDAp vaccine, the Shingles vaccine, and the annual flu vaccine. If they are traveling domestically, then all states have health departments where one can check for flu activity if traveling during flu season. When traveling internationally, make sure to get a vaccination for diseases that are rare in the United States such as polio or yellow fever. Also, visit their primary care doctor for an overall check-up and do this at least 10 days before the scheduled trip. To receive the best senior care services in Florida, contact EliteCare Health Centers.
Check the United States Department of Health and Human Services website for more information regarding vaccinations required for safe international travel.
Keep medical documents ready
In the event of a medical emergency, keep important medical documents handy while flying. Make an online repository with all the healthcare details including doctor's prescriptions, test results, etc. for easy access. Also, if the seniors are not tech-savvy, do not forget to add hard copies of important medical documents to their luggage.
Dress properly
While traveling, it is recommended to wear loose-fitting clothes and comfortable shoes. Avoid wearing expensive jewelry for safety concerns.
Book tickets in advance
As a result of their underlying health conditions, seniors often have to use the bathroom frequently. Also, some seniors may feel the need to move or take a walk every now and then while traveling by air because of arthritis. Therefore, book a ticket in advance to get preferential seating, particularly an aisle seat.
If your senior family member needs extra legroom, you can make a special request. Additionally, if they have specific food restrictions or a special diet, see if there is a menu option that will accommodate their needs.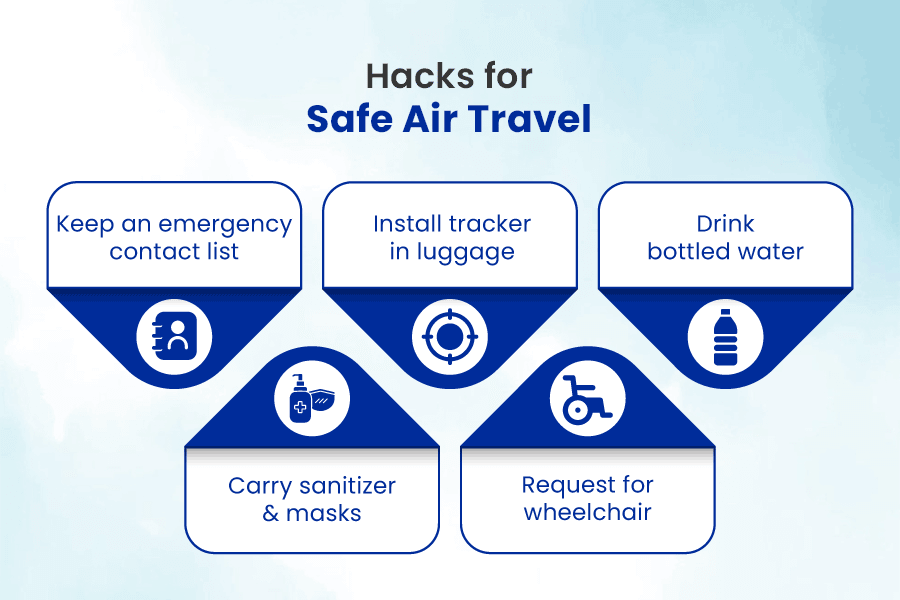 Prepare an emergency contact list
If an emergency occurs when seniors are traveling, make sure that they will be able to get the help they need. To get help in these situations, it is critical to have an emergency contact list. For instance, if they experience unusual physical symptoms, they can call their doctor and ask for advice. While it's possible to store contact information on the phone, provide them with a physical copy of the list just in case they lose their phone.
Carry sanitizer and masks
Although most airports and airlines have removed mandatory usage of masks, seniors should always wear masks and use sanitizer while traveling. Older adults can contract disease-spreading germs from the armrests and headrests of their seats and food trays. Use sanitizer or disinfectant wipes to clean these areas and their hands before eating. Also, wear an N95 mask that covers the nose and mouth to reduce the risk of contracting the flu and other viral diseases.
Install a tracker in luggage
Luggage trackers are becoming more popular for senior travelers as an extra security measure. It ensures that they can retrieve their belongings when checking luggage at the airport. Once mounted on luggage, seniors can easily check where their luggage is. It reduces the risk of losing luggage at the airport and saves additional hassle.
Request for assistance
Even if seniors are in good health, they might find it difficult to walk all the way to the flight gate. Therefore, it is wise to request a wheelchair when booking a flight. Additionally, ask for pre-boarding to avoid crowds and long lines.
Although airports provide wheelchairs at no charge, plan ahead as airports have a limited supply of wheelchairs available. Also, some airports offer courtesy carts for senior travelers. Hence, check with the staff beforehand to get assistance.
Drink bottled water
Flight crews and researchers recommend that passengers avoid drinking tap water on an aircraft- including its usage for tea and coffee. Due to the presence of microorganisms and bacteria, tap water can cause severe stomach issues. The presence of microorganisms in the not very clean aircraft water tanks, including coliform bacteria, can cause severe digestive issues. Hence, ask the attendants for sealed bottled water.
Key Takeaway
Seniors should get travel insurance and share their detailed itinerary with friends and family. Also, enroll with the Department of State's Smart Traveler Enrollment Program and check for travel advisories for their destination. STEP can also assist them in case of an emergency and help them to reach friends and family. Following these hacks will ensure safe and hassle-free travel.