Generative AI has revolutionized the way we achieve productivity today. And AI-powered text editors are a big part of that. With AI powering your writing, you can now generate an outline for your ideas much easier, write and edit your work a lot faster, and refine your writing at a pace much higher than you ordinarily ever could.
Since AI-powered text editors leverage machine learning to master your writing style, they can offer better personalized suggestions, which makes your work sound and read even more like you. However, there still remains the problem of selecting the right tool to do all your work.
HIX Editor and Notion AI are two powerful text editors which are some of the most popular. While there are a number of similarities between them, some key differences still exist. This article will go over both, so as to help you distinguish between them, and decide which is better for you.
Overview of HIX Editor and How it Works
HIX Editor is an AI-powered text editor of HIX.AI which enables you to compose, edit, and export your writing from one app. By collaborating with AI in the word editor, you can take your writing to the next level with AI-powered proofreading and content generation, making your finished work so much more powerful and refined. Users of the HIX Editor can work in one of three modes:
Power Mode: For users who are very serious about the quality of their writing, working in this mode grants you access to a suite of over 120+ AI writing tools to fix anything from spelling and grammar issues to simplifying technical jargon.
AI Mode: In this mode, you engage the AI-enabled assistant to aid you as you write. Receive helpful prompts, masterfully edit, and elaborate on ideas with one of the best AI-powered writing assistants in the world.
Chat mode: collaborate with the HIX chatbot as you write, ask questions, and receive concise but insightful answers that elevate the quality of your writing.
With the HIX editor extension of HIX.AI, you can use AI to elevate your writing even on other platforms such as Google Docs or WordPress. Simply plug in via Chrome, and start working 10 times as fast. When you're done editing your work, you can easily save it as a Word document or PDF and then easily export and share it across other platforms.
Pros
The interface is very easy to use and understand
HIX Editor allows for the easy embedding of images, videos, and other forms of media
In addition to its basic free plan, HIX Editor offers very affordable pricing options for users
Supports over 100+ languages
Cons
For advanced users, the customization options are limited
Compared to dedicated collaborative apps, support for collaborative editing is a little limited
Does not support all types of file formats for importing and exporting of content
Overview of Notion AI and How it Works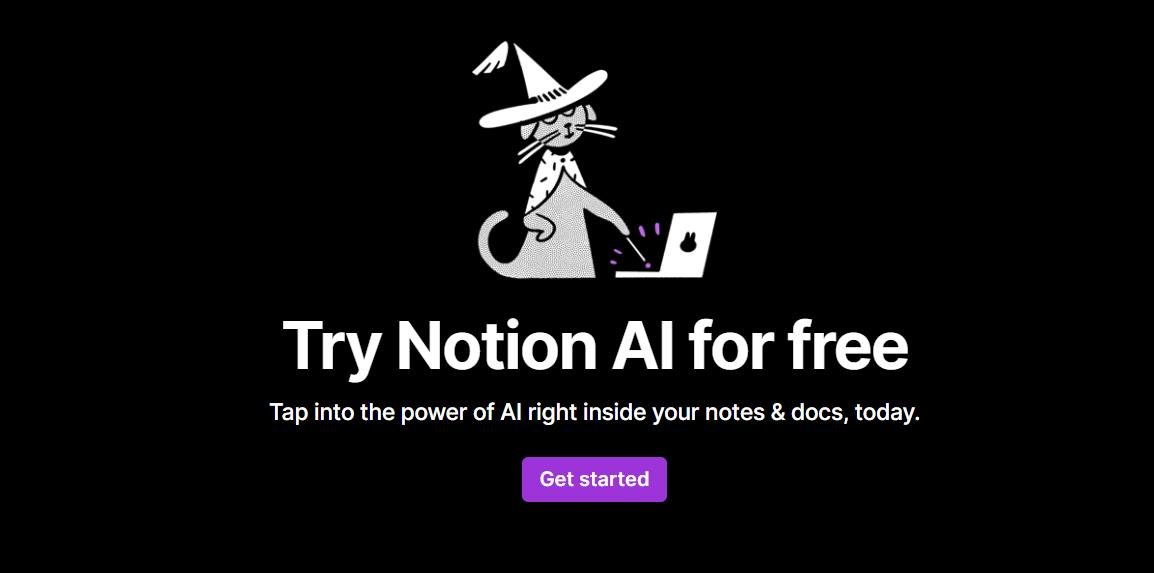 Notion AI is another powerful AI-enabled productivity tool that supercharges your writing process with its ability to generate, summarize, and translate text. It can fully flesh out ideas, simplify complex ones, and even generate helpful templates for other use cases whether it be note-taking or project management.
Notion AI is a particularly great addition to the Notion app, with its features allowing it to fix spelling and grammar issues, explain terms that are technical, or rewrite the text so that it matches a desired tone. With its integration into the broader Notion ecosystem, Notion users can utilize the power of AI to 10x their productivity.
Pros
Powerful data organization tools allow for easy searching, categorizing and retrieval of information.
Offers an affordable pricing option
Provides great support for collaborative editing and other kinds of collaborative work
Cons
Mastering Notion can be a little difficult, especially for more advanced functions
Customization options are also limited
Notion AI provides very limited support for integration with other systems
Differences between HIX Editor and Notion AI
HIX Editor from HIX.AI and Notion AI are some of the most powerful generative AI word processors on the market. And with a lot of similar features, it can be hard to decipher how they differ and which tool is best for your needs. So here are a number of key differences between them briefly explained.
Integration
While both HIX and Notion AI have their standalone platforms, you may find yourself needing to utilize their AI capacities on a different platform. To this end, HIX Editor has its users more adequately covered.
With its plug-ins, you can simply connect to Chrome using the Chrome Extension and operate across several different platforms such as Google Docs, Gmail, Youtube, Twitter, Instagram, and more. However, Notion AI's Chrome extension only supports integrations with the Chrome Browser.
Pricing
Both of these products provide a mixture of a freemium tier/free trial with a paid, more premium model. For the HIX Editor, operations on the GPT-3.5 engine are completely free. But the use of the GPT-4 engine requires payment. Notion AI offers a number of complimentary responses to its users. Once these are exhausted, a paid subscription would be required for continued access.
For the premium models, the pricing of these products differs very slightly. With HIX Editor costing $9.99 per month billed annually, while Notion AI costs $10 per month.
Collaborative Capacities
While both HIX editor and Notion AI enable collaboration, they employ different approaches to it. HIX Editor focuses on collaborative work on documents, enabling features such as editing and commenting in real time.
Notion AI, on the other hand, creates a much broader environment for collaboration, allowing teams to share documents, assign tasks within themselves, and manage data.
The HIX Editor primarily focuses on the collaborative experience for working on documents, while Notion AI goes for a more robust environment.
HIX Editor v Notion AI: Which is the best?
As in a lot of other contexts, the answer to this question is that it varies according to the user and their specific needs. While they are both cutting edge pieces of software that radically boost our productivity, they work best in different contexts.
With its broad and easy integrations, spelling and grammar checker, affordable pricing options, and its suite of 120+ AI tools to refine your documents, the HIX Editor from HIX.AI is definitely one of the world's finest software tools for individuals intentional about their writing. But Notion AI with its powerful organization tools and collaborative workspace makes for another great tool as well.
It is left to users to assess their strengths and weaknesses and see how they fit in with your productivity needs.