Garment production is a multi-stage process with numerous phases. Raw materials for garment manufacture play a key role in it, and can have a substantial impact on the end result. Let's learn about the top raw materials for textile manufacturing and eco friendly clothing materials on this article with us!
1. What are the primary raw materials used in the manufacture of clothing?
Manufacturing raw materials are the primary substances that are used as input into a production process and then undergo numerous processing stages before being transformed into a completed good. Raw materials can be treated or unprocessed.
Raw materials for garment production are the basic materials used to make garments. Clothing manufacturing process and textile manufacturing begins with basic components, which are subsequently transformed into finished goods through a range of processes such as spinning, weaving, knitting, dyeing, and finishing. These substances can be natural or manufactured and include the following:
Fibre
Yarn
Fabric
Dyes
Auxiliaries and Chemicals
2. Compile the raw materials required for garment production.
Clothing production is a complex process that employs a wide range of basic components. Each material has a significant impact on the final product's quality and look. The following is a list of the initial supplies required for garment production.
2.1. Fiber
Fiber is a critical component in the production of basic supplies. Fibers can be sourced from nature, such as cotton, wool, silk, and linen, or synthetic, such as polyester, nylon, and acrylic. The maker should select the suitable fiber material based on the necessary characteristics of the garment, including as softness, durability, stretch, and moisture-wicking capabilities.
2.2. Cotton
Cotton, which accounts for more than a third of all raw materials used in manufacturing, is the most commonly utilized natural material in the production of garments. It is used in lace, knit fabric, and woven fabric. It is combined with other fibers in the same way that it is used to make hybrid fabrics.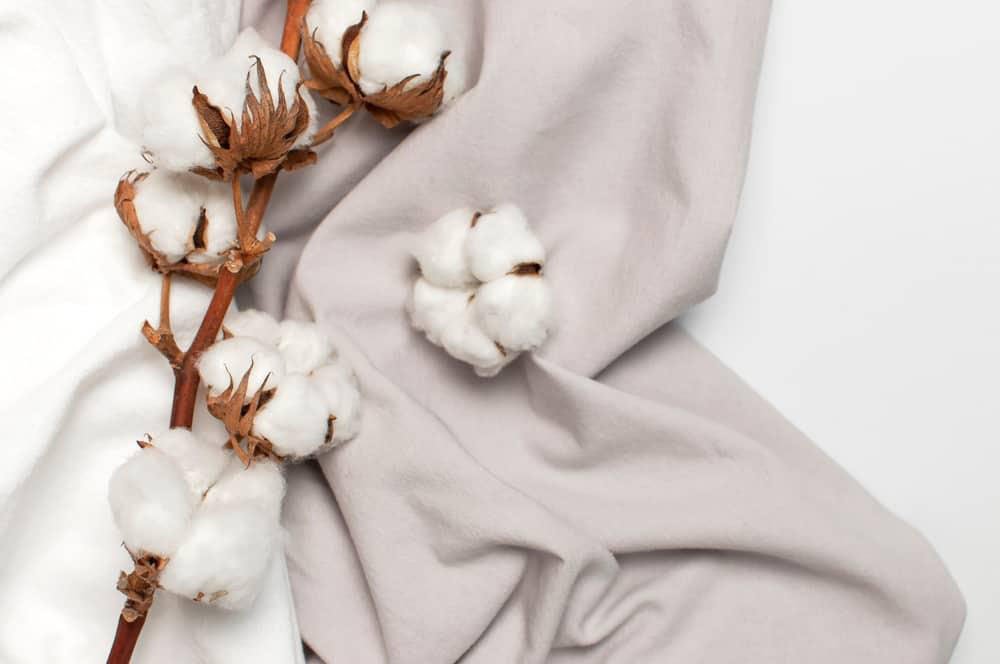 Cotton is a raw material used in the manufacturing procedure.
2.3. Polyester
Polyester is a synthetic fabric that is commonly used in apparel production. It is well-known for its low cost, wrinkle opposition, and longevity. Polyester clothing is easy to care for and may be machine-washed and dried without shrinking or losing its shape. Because they are lightweight and quick to dry, they are also ideal for sporting and outdoor clothing.
2.4. Silk
Silk is one of the most expensive and sought-after raw materials in the garment industry. It is an organic fabric produced by silkworms, giving it a silky, silky feel and an appealing drape. Silk is known for its strength and durability, making it an ideal fabric for high-end clothing. Silk apparel, while typically associated with high design and formal situations, may also be worn on a regular basis, providing users comfort on a daily basis.
2.5. Nylon
Because of its reliability, adaptability, and hardness, nylon has grown in popularity in the clothing manufacturing business. Nylon is well-known for its durability, resistance to shrinking, and wrinkle opposition, in addition to its resilience and ease of production in large quantities at a low cost. As a result, nylon has become a widespread and necessary substance in daily life.
Manufacturing of nylon basic components
However, nylon manufacture can have a severe influence on the environment, especially in terms of energy usage and greenhouse gas emissions. As a result, it is critical for garment producers to assess the advantages and disadvantages of employing nylon and to investigate alternatives that are more environment
2.6 Auxiliaries and chemicals
Chemicals and auxiliaries are raw materials for garment manufacture that are widely used in the apparel industry. These elements are used to bring color, texture, and other aesthetic features to clothes. While certain substances may be useful in achieving desired results, their use may have negative impacts on the environment and people's health.
4. The significance of raw materials in garment manufacturing
The initial components are the cornerstone of garment manufacture, accounting for approximately 50 to 70% of the cost of a short-staple yarn. Choosing the correct raw materials is critical for producing garments that are both cozy and aesthetically pleasing. The purchase of raw materials, which is the principal cost component, accounts for 60 to 70% of the total cost of making a garment. As a result, the choice of raw materials might have an impact on the cost of garment production. As a result, it is evident how critical raw materials are to the clothing and textile sectors.
There is no doubting the significance of raw materials in the garment manufacturing process. If you have any questions or would like to learn more about this manufacturing method, don't hesitate to reach out to us.