totwoo is a company that creates and manufactures smart bracelets using wearable technology. totwoo's primary focus is the jewelry itself. For thousands of years, jewelry has been a symbol of love, friendship, and connection due to its design, materials used, and significance. Technology enables interactions across time and space to facilitate user interactivity in the virtual world, so we creatively integrate the two. Jewelry is thought to improve people's feelings of love and connection. Totwoo's mission is to improve jewelry, and we have specific design criteria and technology that no one else can match.
totwoo smart bracelets  are a relatively new product that has gained popularity in recent years. It is a wearable device that teaches dementia patients how to communicate.
What are smart bracelets?
To communicate with your lover, you can use smart bracelets to share photos and videos. They are ideal for couples who want to show off their relationship or for people who like to wear their bracelets to class or work. Smart bracelets are a type of couple bracelet that is gaining popularity.
The functions of totwoo smart bracelets:
Tap it, and the others will light up and vibrate.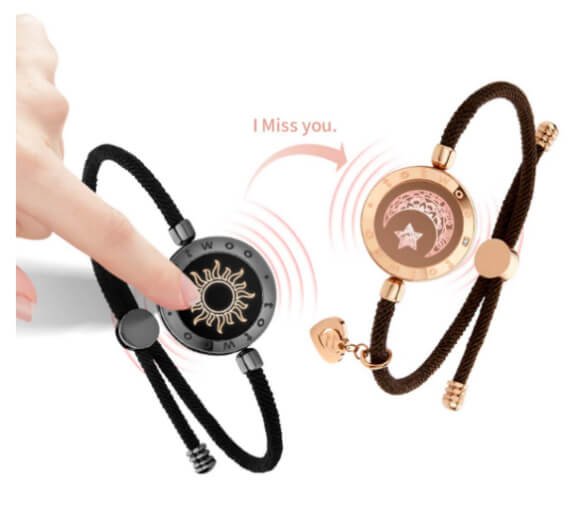 Regardless of your relationship's distance, you can make your loved one's bracelet light up and vibrate with nothing more than your fingertip. Each touch conveys a "I love you" message. To express your individuality, experiment with different colors, touch, vibration intensity, and so on. Every vibration will make you feel the love in your heart, mind, and soul. The sun and moon are the most fashionable bohemian design elements! The sun and the moon are permanent features of the world; consider the sun and the moon to be eternal, rather than separate.
Share sweet moments with your partner.
If at all possible, you should be surprised when you receive love letters. Share your happiness with your spouse by posting sweet pictures, recordings, audio, and text. When you send the love letter to your loved one, the jewelry will begin flashing and dancing. When your partner picks up the jewelry, a surprise love letter will appear.
Nothing beats sharing a sweet moment with your partner when it comes to anything and everything. Getting along can be so much fun for everyday situations as well as special occasions! So why not take advantage of all of your partner's sweetness and share it with them? Sun&moon smart vibration bracelets are your best bet.
It reminds you of every incoming call from your loved one.
totwoo Reminder notifies you whenever one of your contacts calls you. You can program the app to add up to three contacts to your call log, and the bracelet will flash and vibrate to remind you. Prepare for extraordinary or dramatic events involving your loved one.
When your loved one calls, you may wonder what kind of bracelets they are wearing. These bracelets, whether a traditional key ring or an interactive device, keep you connected and remind you of their presence. How will you prepare for the upcoming visits of your loved ones? Bracelets in pairs can be useful! They not only remind you of their visit, but they can also help you stay organized.Plus, they make a great gift!
Create a unique love space for you two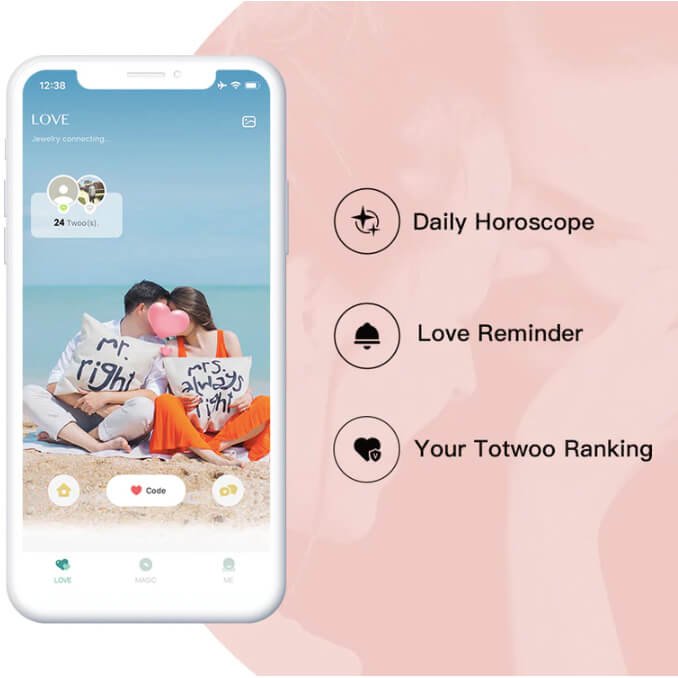 The light and vibrations produced by your device assist you in connecting in only two apps that support only two simultaneous users. Give yourself an exclusive opportunity to light up and feel closer to your loved one by playing the unique color on that day from then on. You can set up anniversaries to serve as a love reminder and view your Totwoo ranking. The more you interact, the higher your ranking. You can even get a certificate to commemorate your love!
In conclusion, the Totwoo smart bracelets are an excellent way to preserve your sweet memories. They are simple to use and have numerous features that make them ideal for everyday use. Assume you're looking for a device to help you grow your love and connection. Totwoo smart couple bracelets are an excellent choice in this case. Totwoo smart bracelets offer a number of features that make them an appealing option for those looking for a new type of wearable device. Totwoo smart bracelets will change the way people think about wristwear thanks to their innovative design. In addition, totwoo also has other products such as totwoo MEMORY necklace. You are also welcome to take a look. Its goal is to store your memories.