A furnace burner is a crucial component of a heating system that plays a vital role in producing heat to keep homes and buildings warm during cold weather. It is a device that ignites and burns fuel, such as natural gas or propane, to generate heat distributed throughout the building by the furnace blower.
In this article, we will explore what a furnace burner is and how it works, as well as the different types of furnace burners available in the market. We will also provide some maintenance tips to ensure that your furnace burner functions efficiently and lasts longer. If you're looking to upgrade your heating system or have a high-efficiency furnace main burner that requires maintenance, read on to learn more.
How Does a Furnace Burner Work?
Furnace burners work by using a combination of fuel and air to create a controlled flame that generates heat. Here is how a gas furnace burner works:
When the thermostat in the home detects that the temperature has dropped below the set point, it signals the furnace burner to begin the heating cycle.
Once the fuel valve opens, the furnace burner will take in the air from the outside and mix it with the fuel.
The pilot light will then ignite this mixture, creating a flame that will heat up the air.
After going through the heat exchanger, the heated air is transmitted to the air in the ductwork.
Finally, the blower fan will distribute this warm air throughout the home, ensuring that each room is heated to the desired temperature.
Choosing the right furnace for your house can be difficult because there are so many varieties, brands, and models available. Our comprehensive guide about HVAC furnace can help you with all the information you require to make an educated choice.
Types of Furnace Burners
There are various types of HVAC furnace burners, each with unique features and functions. The most commonly used furnace burners include upshot burners, in-shot burners, and conversion burners.
Upshot burners: Upshot burners are the oldest type of furnace burners and are typically found in natural draft furnaces. These burners work by drawing air from the bottom of the furnace through a combustion chamber and into a chimney. As the air warms up, it rises and produces a draught that draws in additional air for the furnace.
Inshot burners: Inshot burners are commonly used in induced draft furnaces and are found in nearly all high-efficiency furnaces. These burners function by blowing air into a combustion chamber. The fuel and air are then combined, ignited, and the result is a flame that heats the heat exchanger. The heat is then transferred from the heat exchanger to the air that is circulated throughout the building after passing through the furnace.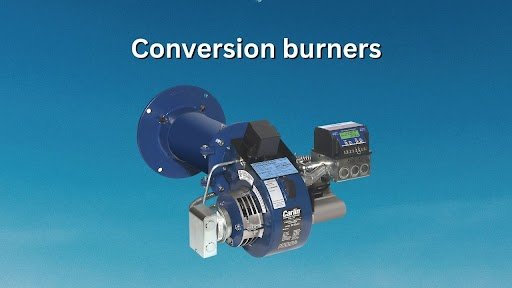 Conversion burners: Conversion burners are used in furnaces that require fuel to be converted from one type to another before it can be burned. They are versatile and allow for greater flexibility in fuel choice.
Benefits of a Furnace Burner
A furnace burner is designed to provide optimal combustion of fuel, which leads to higher energy efficiency and lower fuel consumption. Also, they can be configured to burn different types of fuels, including natural gas, propane, and oil, depending on availability and cost.
Moreover, furnace burners are designed to be durable and reliable, requiring minimal maintenance and providing consistent performance over their lifespan. Overall, installing a high-quality furnace burner can provide significant benefits for heating your home or commercial space.
Whether you're a contractor, HVAC technician, or a homeowner looking to repair or upgrade your HVAC system, PartsHnC is your one-stop shop for all your HVAC needs. From furnace parts to air conditioning components, heat pumps to HVAC controls, we have the expertise and product range to help you find the right parts for your specific needs. With a commitment to quality and reliability, we source our parts from trusted manufacturers to ensure that our customers receive only the best products.
Installation & Maintenance of Furnace Burner
Installing and maintaining a furnace burner is an essential task for ensuring the proper functioning of a furnace. Proper installation and maintenance of the furnace burner can help in reducing energy bills and prevent breakdowns.
Installation of a Furnace Burner:
Installing a furnace burner is a complex task that requires professional expertise. It involves connecting the gas supply line to the burner, adjusting the air-to-fuel ratio, and ensuring that the burner is correctly aligned with the furnace heat exchanger.
Maintenance of a Furnace Burner:
Neglecting maintenance can lead to inefficient combustion, increased energy bills, and even breakdowns. To maintain a furnace burner, follow these steps:
Regularly inspect the burner for any signs of damage or wear.
To get rid of any dust, grime, or debris that may have gathered, clean the burner and heat exchanger.
If the air filter appears to be blocked or dusty, replace it.
Examine the ignition system and repair any defective parts.
If the flame sensor is dusty or covered in soot, check it out and clean it.
How to Clean Furnace Burners
Over time, furnace burners can become clogged with dirt, debris, and rust, which can cause uneven heating and inefficient combustion. Here's How to Clean Furnace Burners:
Shut off the furnace's gas supply.
From the furnace, take out the burner assembly.
To get rid of any dust, debris, or rust, scrub the burner assembly with a soft-bristled brush.
Inspect the burner ports for any clogs or obstructions and use a wire brush to remove any blockages.
Clean the flame sensor with a soft cloth or fine-grit sandpaper.
Reassemble the burner and reinstall it in the furnace.
Turn on the gas supply and test the burner for proper ignition and flame.
How Do You Replace a Furnace Burner?
A furnace burner can become worn out or damaged over time due to prolonged use, causing the furnace to malfunction or fail entirely. Replacing a furnace burner can help restore the heating system's efficiency and reduce the risk of carbon monoxide poisoning or other hazards associated with a malfunctioning furnace. Follow the below steps to replace a furnace burner:
Turn off the power to the furnace to prevent any electrical accidents.
Remove the burner assembly and disconnect the wiring and gas lines.
Take the new burner and attach it to the furnace. Carefully reattach the gas lines and wires.
After replacing the burner, turn the power back on and test the furnace to ensure that everything is working correctly. Observe the flame color, look for any unusual noises, and check the airflow.
For best performance, make sure the furnace is cleaned and the air filters are changed.
In conclusion, a furnace burner plays a crucial role in heating our homes and workplaces during the cold season. The HVAC industry is filled with several kinds of furnace burners, each having pros and cons. Proper maintenance such as regular cleaning and inspections can help ensure that the furnace burner operates efficiently and safely for years to come.