Finding the perfect air conditioner for your home can make a significant difference in keeping your living space comfortable, especially during the scorching summer months. With a wide array of options available in the market today, selecting the right air conditioner may seem daunting. You must use the latest Clim Airton to avail best discounts while buying air conditioners.
You may follow along with this comprehensive guide as it walks you through the key variables to consider when selecting an air conditioner according to your requirements. So, let's start!
Types Of Air Conditioners:
Understanding many types of air conditioners is crucial when choosing one for your home. Consider the layout of your home, cooling needs, and installation requirements when selecting the type of air conditioner that best suits your requirements. Each type has distinct qualities and installation needs. The following are some main types:
Reversible Air Conditioners:
Also known as heat pumps, reversible air conditioners offer cooling and heating functions. They are an effective alternative for year-round temperature management due to their dual functionality.
Air Fresheners:
Air fresheners help improve indoor air quality and provide a refreshing environment. They frequently use filters and aroma cartridges to eliminate odors, catch allergies, and spread pleasant scents. Air fresheners work well with air conditioning units to improve indoor comfort.
Mobile Air Conditioners:
Similar to portable units, mobile air conditioners are standalone units that can quickly move around. They typically have wheels for mobility and require venting through a window or an exhaust duct. Portable air conditioners offer flexibility and cooling for various rooms or home areas, making them a convenient option for those needing temporary or versatile cooling solutions.
Fans:
Fans do not actively cool the air. They create air movement, which can provide a cooling effect by increasing evaporation from the skin. Fans come in various styles, including desk, pedestal, tower, and ceiling models. They can be used with air conditioners to improve airflow and more effectively disperse cool air because they are economical, energy-efficient, and versatile.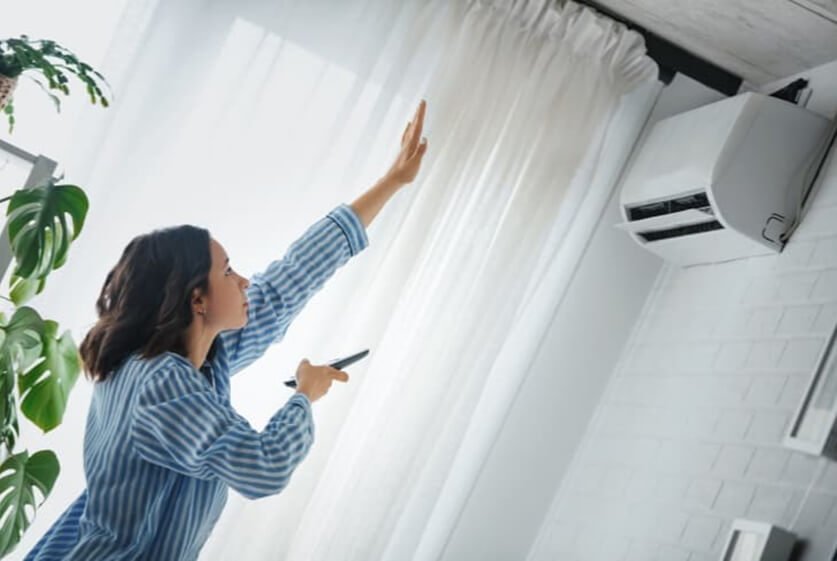 Sizing Considerations:
When selecting an air conditioner for your home, it's crucial to consider the sizing requirements to ensure optimal performance and energy efficiency. Here are some key factors to consider:
Square Footage:
Determine the total square footage of the area you want to cool. It includes all rooms, open spaces, and connected regions. An undersized unit may need help to cool the site effectively, while an oversized unit can lead to excessive energy consumption and poor humidity control.
Insulation and Climate:
The level of insulation in your home and the local climate play a significant role in determining the cooling load. Consider the insulation quality of your home and the typical outdoor temperatures in your area.
Windows and Sun Exposure:
Windows allow heat to enter and can impact the cooling load. If the area receives direct sunlight for extended periods, it will require additional cooling. Take note of the orientation of the windows and the presence of shading elements, such as curtains or blinds.
Occupancy and Heat Sources:
It is essential to consider the number of people occupying the room and the presence of any heat-generating equipment or appliances (such as electronics or kitchen appliances). The cooling demand may rise when there are more individuals and heat sources.
It is advised to speak with a qualified HVAC specialist to precisely evaluate the required cooling capacity. Based on the above elements, they may calculate the load and make recommendations unique to your home's requirements. Although there are online calculators that can offer estimations, correct sizing is best achieved with the help of a professional.
Energy Efficiency and Additional Features
Energy efficiency plays a significant role in reducing electricity costs and minimizing environmental impact. Looking for a high SEER rating in air conditioners would be best. Additionally, check for certifications such as ENERGY STAR, which ensures energy efficiency standards are met. Energy-saving features like programmable thermostats, variable speed fans, and sleep modes can enhance efficiency and reduce energy consumption.
Take into account the extra features that can improve your cooling experience. Advanced air filtration technologies are available in some air conditioners to reduce allergens and pollutants and enhance indoor air quality. Others have innovative features that let you use smartphone apps to monitor and manage the device remotely. Dehumidification, fan-only mode, and movable louvers are additional features that can enhance individual comfort. Based on your unique requirements and preferences, evaluate these characteristics.
Installation Options:
It would help if you considered the following installation options:
Window Units:
Window air conditioners are designed to fit in a standard-sized window or a specially designed wall opening. However, ensure that the window or wall opening is compatible with the unit's dimensions and follow the manufacturer's instructions for proper installation.
Split Systems and Ductless Mini-Split Systems:
Split systems and ductless mini-split systems require professional installation. They ensure proper placement, secure mounting, and correct refrigerant line connections.
Portable Units:
Portable air conditioners require minimal installation. They typically come with a flexible exhaust hose that needs to be vented through a window or an exhaust duct. Some models may also require a drain hose for condensate removal. Moreover, installation involves positioning the unit near a window or vent, securing the exhaust hose, and connecting any necessary drainage components.
When selecting an air conditioner, consider the installation requirements, complexity, and feasibility. While some types may be DIY-friendly, others require professional expertise, such as split and ductless mini-split systems. Proper installation is essential for optimal performance, energy efficiency, and the longevity of your air conditioner.
Winding Up!
In a nutshell, you must assess your cooling needs, room sizes, and budget to make an informed choice. To establish the proper cooling capacity for your room, take advantage of expert assistance and use online resources. Give energy-saving appliances top priority while searching for extra features that suit your preferences. Also, make sure the installation is done correctly to maximize performance and longevity.
With this thorough guide's help, you can select the best air conditioner to keep you cool and comfortable throughout the summer. Don't forget to use the Code Promo Airton 2023 and get some savings on your next air conditioner purchase!
Author Bio:
Cameron Alex is a talented writer with extensive writing experience in electronics. He loves to write reviews and buy guides on electronics including air conditioners to help his readers to buy the most appropriate electronic items for their homes and workplaces.